― ஜ ۩ Whiskey Tango Texas ۩ ஜ ―
Aldi's $5 billion bet at a brutal time.
Aldi Market on Biscayne Boulevard In Miami Florida.
Today, Albertson's explained in an amendedS-4 filingfor a debt exchange offering just how tough things have gotten for traditional supermarket chains.
As is so often the case, there is a private equity angle to it. Albertson's was acquired in a 2005 LBO by a group of PE firms led by Cerberus. In January 2015, it acquired Safeway to eliminate some competition. It then wanted to sell its shares to the public. But in October 2015, as brick-and-mortar retail began to melt down, it scrapped its IPO.
The filing's most revealing data are same-store sales on a quarterly basis through Q4, 2016, comparing year-over-year sales growth at stores that have been open in the current and prior year. I added the red line to show the trend since Q3 2015: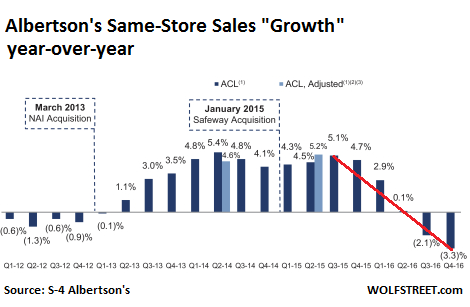 The S-4 supplied…
View original post 952 more words