Rehmat's World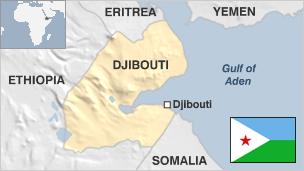 On Tuesday, tiny Muslim African port city state of Djibouti became home to the first Chinese overseas military base (watch below). Incidentally, the inauguration ceremony coincided with People Liberation Army's 90th birthday.
I don't know what's the purpose of China's establishing its first-ever military base in a tiny Muslim nation which is already home to China's three enemy states; the US, France and Japan. Maybe, it's China's response to US-Indian bullies in the Indian Ocean. China is courting three of India's regional allies; Bangladesh,Myanmar, andSri Lanka.
China began construction of a logistics base in Djibouti last year. It will be used to resupply navy ships taking part in peacekeeping and humanitarian missions off the coasts of Yemen and Somalia, in particular.
Huff. Post has reported that US-Israel ally Saudi Arabia is also planning a military base in Djibouti.
Tens of thousands of Muslims fromYemen have…
View original post 429 more words